Welcome to 101

111 MIND MODEL HANDOUT
A Baby's Mind is Totally Subconscious. When you were a baby, your mind was completely subconscious.
Negatives and positives dropped down into the subconscious and it accepted them as truth.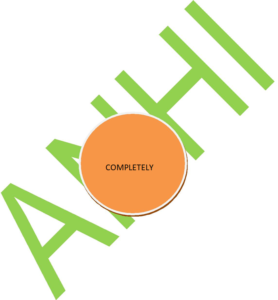 The Subconscious Mind – Infant
The Critical Mind
When you were between 8 and 12 years old, you began to develop a critical mind. A critical mind acts like a filter. It accepts knowns and rejects unknowns. A known is something the child has experienced before and therefore the subconscious mind associates and identifies with it.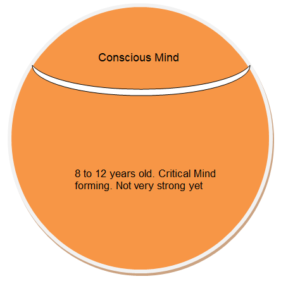 The Subconscious & Conscious Mind – Child
Teenage Suggestibility
By the time the child becomes a teenager, the critical mind is still not very strong. If you combine that with the need for peer approval and acceptance, it may cause the teenager some problems.
If the teenager drinks alcohol or takes drugs, then critical mind does not become strong until later, perhaps not until the 20's or even the late 20's.
Overload of Critical Mind
When the critical mind does become stronger, many things may overload or overwhelm it. Information coming into the brain is called message units. There are millions of message units coming into the brain every second in a normal day. Message units come from:
The environment

– like interactions at work, home, and our everyday surroundings.

From our

physical body

.

Pain is a big one.

From our

conscious mind

as we try to reason things out and make sense of information.

Probably the biggest source of message units is our own subconscious mind as critical brain tries to hold down all our insecurities.
However, many things can overwhelm or overload the critical mind such as:
Breakup of a relationship

Losing a job

Emotional or physical trauma

Sometimes just an environment overloaded with information can do it.
There are two ways we get rid of these message units. One is in the hypnotic state. When you come out of the hypnotic state you will probably find your mind is clearer, you focus better and you feel very good because you were able to drop all those message units, thus, unloading your mind.
We get rid of message units when we sleep at night. The critical brain relaxes and message units drop down into the subconscious mind going to where ever they need to go. Morning dreams vent out some message units. The subconscious mind is saying, "I do not need this anymore" and is trying to let it go by venting it. It takes 8 hours of sleep to vent out 16 hours of message units. What if we only get four hours of sleep one night? Then, the next night, we only get two hours of sleep. Those message units keep piling up so you can see why sleep is so important to physical and mental health.
Hypnosis is a natural state we go into almost every day of our life. The same thing – Message Units, creates both Hypnosis and Environmental Hypnosis. Environmental Hypnosis is an overload of message units in an uncontrolled, negative environment resulting in anxiety. Message units suggested in a controlled, positive environment that result in calmness and clarity of mind create Hypnosis.
Message Units and the Mind
Conscious Mind
The conscious part of the mind is estimated to be between one to twelve percent. The conscious mind deals with your:
1. Logic
2. Reason
3. Will Power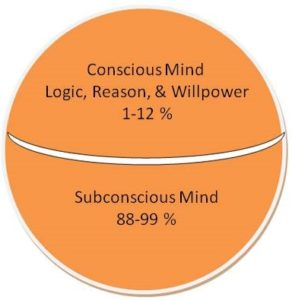 The Mind
Subconscious Mind
The subconscious part of the mind comprises an estimated 88 to 99 percent of the brain. The subconscious mind handles all:
1. Automatic things, like breathing.
2. Associates and identifies with the past.
3. Your expectations and imagination.
However, your subconscious mind does not analyze or think. It uses no logic or reason.
Set a Goal
You consciously decide that you are not going to 'stress out'. You make a decision to stop drinking alcohol or you want to lose weight. (Use whatever problem your client came in for as an example). When
you made that decision, you meant it. However, you get into a situation that triggers the subconscious mind back into action and you are doing the same thing again. That is because your subconscious mind simply associates and identifies automatically with the past. A hypnotherapist changes the way your subconscious associates and identifies with that particular problem; therefore, your subconscious works for you instead of against you. Hypnotherapy is a wonderful, relaxing, and effective method of bringing about the changes that you desire in your life. The hypnotherapist works with the subconscious part of the mind.
Emotional and Physical Suggestibility
Hypnotherapists work with physical and emotional suggestible individuals.
The Physicals are more right-brain dominant. The Emotionals are more left-brain dominant. We hypnotize them differently. Even the suggestions given are different. The term Emotional is confusing.
Most people think of an Emotional as someone who lets their emotions rule them. However, hypnotherapy calls this person Emotional because they hide their emotions. Think of Emotional in the opposite way you would normally think emotional. Perhaps you can compare an Emotional to an iceberg. When you see the tip of the ice above the water there is still a huge amount beneath the water that you never see. Your suggestibility is the way you learn and process your ideas. You learned your suggestibility from your mother when you were a child. If your mother was not around, then you learned it from your main caretaker. You may have noticed that the questions you answered on
the form we gave you to fill out were a lot alike.
Those questions give
me an idea of your suggestibility, and I am going to test you again in a few minutes. (Here you are using expectation). In hypnosis, the therapist gives suggestions according to suggestibility.
We speak to the Physical directly but the physical speaks with inferences. In hypnosis, we speak to the Emotional with inferences but the Emotional speaks directly. The speech patterns of the Physical
and Emotional complement each other and usually one is attracted to the other.
Sexual Suggestibility
Your sexual suggestibility is your outward behavior. You learned this from your father when you were a child. If your father was not around, you learned it from another male figure in your life.
Physical Sexual Suggestibility
This person is more comfortable with touch and feelings. They have a very strong need to feel accepted. They have love, sex and acceptance all tied up together in their mind. Rejection is very difficult for them. If they are high enough Physicals, rejection can almost be devastating to them. In marriage or a relationship that is good, they can make love often, maybe every day, and still like to cuddle or have
the spouse hold them after the sex act.
Emotional Sexual Suggestibility
The high Emotional Sexual has a space around them. They do not want anyone in their space or in their face. When you talk to them, they often look away unless they have taught themselves to look right at you. They do not have love, sex and acceptance all tied together in their heads. To them it is a release. An Emotional Sexual operates on a sexual cycle of every three to seven days. If the Emotional Sexual is high on the scale, their sexual cycle may only come around once in two weeks or maybe once in a month. After the sex act, the Emotional wants to turn over and be left alone. If the Emotional Sexual is low on the scale, then they may still like to cuddle or have the spouse hold them after the sex act, but nothing more than that. In the beginning of a relationship, the Emotional acts like a Physical Sexual. After the honeymoon stage is over, however long that is, usually two to seven years, they return to exactly what they are – an Emotional Sexual.
© C o p y r i g h t 2 0 1 8  . A t l a n t a N a t i o n a l H y p n o t h e r a p y I n s t i t u t e
Giving Suggestions
After you have explained Sexual Suggestibility, ask your client 'where do you put yourselves closest to – the Physical or the Emotional?' If your client does not know what kind of sexual suggestibility they have,
then you probably have a low Physical or low Emotional. If your client is high on the scale, he/she will know exactly what they are. If you cannot determine by talking to them – ask them which one
in the relationship initiates the sex act the most. This will usually tell
you.
Somnambulist
The suggestibility of the Somnambulist is 50/50. This person has equal input from the left and right sides of the brain. This person is often in environmental hypnosis, which is not always good because the somnambulist has a tendency to absorb everything as a sponge absorbs water. Their emotions are often like a roller coaster. Something good happens and they are on top of the world. Something bad happens and their emotions drop and they feel bad. Hypnosis is a God-given natural state. Everyone goes into hypnosis sometimes. You have been in hypnosis many times. You just did not know it. Remember a time when you were driving down the road and you had your conscious mind on a problem. You got to where you were going and you did not remember stopping at the light or turning the corner or you were ten miles past the exit? Your mind was on a problem. So who took you there? Your subconscious did. That is Environmental Hypnosis.
I saw a stage performance once where the hypnotist asked everyone to throw his or her wallets on stage. Only a somnambulist would usually do that. They are the ones that perform silly things on stage.The hypnotist did not hypnotize them. The Somnambulist was already in deep Environmental Hypnosis before they ever met the hypnotist, before they ever walked up on the stage. The hypnotist usually sends
a few people back to their seats because they are not deep enough Somnambulists.
       1. Hypnosis is a natural state of mind.
      2. Everyone goes into Environmental Hypnosis sometimes.
      3. The somnambulist does it too often.
Depreciation
The hypnotherapist puts a suggestion into the subconscious mind. Usually the suggestions will depreciate some after the first session. Each time we put the suggestions in, it depreciates less. As you can see, each time the hypnotherapist gives the suggestion to the client in the hypnotic state, the client's subconscious holds the suggestion longer until the subconscious accepts it and the suggestions become
permanent.
We still need to go a little bit past that point, so that when the client depreciates they will not return to their old behavior.
_____________________________________________
_____________________________________________
_____________________________________________
_____________________________________________
_____________________________________________
_____________________________________________
Suggestions and Depreciation Hold Time
Levels of Hypnosis
We know about a hundred and forty levels of hypnosis. No one knows exactly how many levels of hypnosis there are – there may be thousands.
In some levels, you are more aware and alert than you are now as we talk. My voice, the cars in the street, the phone, or fan may seem louder to you but nothing is louder. You are just more alert and aware. At some levels, you may feel as if you can open your eyes and walk out, but you will not want to. At other levels, you will try to listen to what I am saying, but your mind drifts to something totally unrelated.
Then, you may try to listen to my voice again but you may be too relaxed to care and not bother to listen. At other levels, you will feel heaviness or lightness in your hands, your feet, your arms and legs, or your whole body may feel heavy or light. At still other levels, you may go deeper and lose track of my voice. You may think you went to sleep, but the brain patterns are different. You did not go to sleep.
You just dropped past my voice.
Your Subconscious Tries to Protect You. Your subconscious never goes to sleep in your entire life. At night when you are asleep, your subconscious is listening and awake. If you were a sound sleeper before you brought your baby home from the hospital, you changed to a light sleeper. If your baby cried, your
subconscious said, "Wake up. Your baby needs you." (Almost anyone who has had children can relate to this). If you had surgery, some experts think that you should ask your doctor to talk about your healing in a positive way because they believed it can make a difference in the healing process. When a person is in coma, there is evidence that the person hears everything. If you are in a deep level of hypnosis and I say something to you that you do not like, you will abreact (reject) by squeezing your eyelids tight or jerking your body. However, if I say something you dislike strongly, you will abreact, sit up, and come out of hypnosis. Then you will not let me hypnotize you again because you would not trust me.
Your Subconscious Mind Doesn't Always Know How to Protect You. Your subconscious tries to look after you, but sometimes it does not know how. Take the example of an alcoholic. In the beginning, the alcoholic drinks socially. It mellows him out and relaxes him. He does this year after year. Let us say he eventually becomes an alcoholic and perhaps he even loses his job. He knows that if he does not quit drinking he will lose his home and family also. The conscious mind says, "You have to quit drinking." The subconscious mind says, "Go ahead have a drink. I associate and identify with drinking alcohol." It
is like having 1 to 12 horses pulling against 88 to 99 horses. Who is going to win? This person goes to the treatment center and does great. He does not drink alcohol for a year, but one night he is at a party and thinks, "I can handle one drink." However, no one worked with his subconscious mind, so it is very quick to associate and identify with the past again, and he is back to square one. Since that is the subconscious part of the mind we work with, that is why hypnotherapy is such an effective way of accomplishing your goals.
COURSE MATERIAL FOR THE
CERTIFIED HYPNOTHERAPIST PROGRAM
© C o p y r i g h t 2 0 1 8 . A t l a n t a N a t i o n a l H y p n o t h e r a p y I n s t i t u t e
In Course 101, you will learn a wide range of techniques and methods that affect the subconscious mind. You will understand how your client learns and processes information, and how best to make positive life changing suggestions to the client based on their suggestibility. The classes are listed in the numeric order. Remember that listening is not necessarily learning so be encouraged to watch the video lectures as many times as you need to in order to really learn the material. 101 lays a foundation upon witch all other courses are built.
101 Project Page
Certain classes have been placed on the Project Page allowing you more time and flexibility in completing them.  Instead of finishing the project before moving on to the next lesson, you may continue to move on to the next lesson and complete your projects before the 101 Exam is given at the completion of the 101 Course.
Practicals:  Practicals are held on the last Saturday of every month.  practices are not required but they are encouraged.  It is a chance for students to practice with each other, share ideas and hands on training.  While attending Practicals, the students may demonstrate a project for an instructor to sign off on it.  For the ones who are unable to attend practices, you may choose one of many options to do that.
You have several options:  You can video your project or practicum on camera and send in a video in a Window Media Player (wmv) format or email to us on the same format.  All videos must be clear and with good audio so that we are able to see and hear both students and client.   sur recordings and/practicum.  The student may also do their projects or practicum in typed form.
Demonstration Page
After you have completed the 101 Course, you will have access to review all of the 101 demonstrations for 7 days.   Once you have enrolled in the 201 Course you will continue to have access to all the 101 demonstrations as well as, the new demonstrations for 201.
Course Features
Lectures

5

Quizzes

0

Duration

50 hours

Skill level

All levels

Language

English

Students

1

Assessments

Yes
110 Introduction to Hypnotherpy

111 Theory Of The Mind